Ivanka Trump has landed in Israel for the inauguration of the US Jerusalem embassy on Monday, as protesters in Gaza prepare for a day of rallies along the frontier that are expected to be met with gunfire.
The US president's daughter said she was returning "with great joy" to Jerusalem, which Donald Trump has recognised as Israel's capital to the dismay of Palestinians, who claim part of the holy city as the capital of a future state.
"We look forward to celebrating Israel's 70th anniversary and the bright future ahead," Ivanka wrote on Instagram ahead of the opening, which will take place on Monday, exactly seven decades since the country declared independence. "We will pray for the boundless potential of the future of the US-Israel alliance, and we will pray for peace."
Ivanka, a presidential adviser, and her husband, Jared Kushner, were expected to attend a gala dinner on Sunday evening ahead of the event on Monday which is due to start at 4pm local time.
In Gaza, a strip of land Israel has blockaded for a decade, tens of thousands of people are anticipated to gather for protests along the perimeter fence.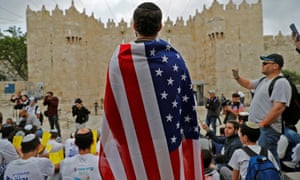 Frustration and desperation at Trump's December declaration helped ignite a six-week movement in which residents of the enclave have gathered near the frontier, with groups throwing stones and burning tyres. They have demanded an end to severe restrictions on movement and called for a "right to return" to their ancestral homes.
Israeli snipers have killed dozens and wounded more than 1,700 when firing on demonstrators in past rallies, according to Gazan health officials.
Organisers hope Monday's will be the largest demonstration to date, on the eve of the 70th anniversary commemorating the Palestinian "Nakba", or catastrophe, referring to their mass uprooting in the war surrounding Israel's 1948 creation.
Israel has portrayed the movement as a "terrorist" ploy by Hamas and as a security threat to its civilians, pointing out attempts to damage and breach the fence. No Israeli has been wounded since protests began on 30 March.
Hamas, which rules Gaza and has supported the protests, said it would not stop people from attempting to break through the fence.
The Israeli army said on Sunday that it held Hamas accountable for anything in the Gaza Strip "and its consequences". It added it had increased the deployment of "combat battalions, special units, field intelligence forces and snipers".
In Jerusalem, dozens of foreign diplomats are expected to the attend the opening of the new mission, set on the site of the US consulate, although many ambassadors who oppose the move will skip it.
Israel captured East Jerusalem in 1967 and annexed the hilltop city in a move not recognised internationally. Most countries have kept their embassies in Tel Aviv.